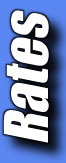 It isn't necessary to choose one of these packages. Really they are more like guidelines to show you the typical low rates from Impact. Average business web sites run between $349 and $699.

These prices will not last long! I can honestly tell you that I won't be able to offer these prices for more than a few months into the future. To lock in these current low prices and excellent values, contact me as soon as you can!

Contact me [Walter Tersch] at 773-317-0001 for a free quote. I sincerely look forward to hearing from you and helping your company!
Flat Rate Business Web Site "Packages"
Basic Package, only $299. Includes:

Up to five HTML pages
A standard title graphic for every page.
Inclusion of up to five 'client provided' images.
E-mail links, your address, and contact information on every page.
Submission to the 12 top search engines.
Custom "meta tag" creation. (Special codes that help your site come up in search engines.)
Textual links on every page for efficient site navigation.
2 MB Hosting off my domain name. (www.tersch.com/yourcompany)
Friendly, caring, personal service.
$100 worth of free updates and revisions. (Revisions after site completion are otherwise billed at $19 per quarter-hour.)

Corporate Package, only $449. Includes:

Up to 10 HTML pages
A special effect title graphic on every page. (Title text looks beveled, glowing, and/or shadowed.)
Inclusion of up to 10 'client provided' images.
Scanning of up to five photos or pages of text.
Your choice of navigation system:

up to ten custom graphical buttons, or
a custom image map.

Textual links on every page as well, for efficient site navigation.
A color-coordinated background image.
Free domain name and hosting set up. (Regular InterNIC and hosting charges apply, but I set everything up for you free of charge.)
A special tracker so you can monitor exactly how many people visit your site, how they get there, what web browser they're using, and much, much more. Like a hit counter, except a million times better.
E-mail links, your address, and contact information on every page.
Submission to the 12 top search engines.
Custom "meta tag" creation. (Special codes that help your site come up in search engines.)
2 MB Hosting off my domain name. (www.impactwebdesign.com/yourcompany)
Friendly, caring, personal service.
$100 worth of free updates and revisions. (Revisions after site completion are otherwise billed at $19 per quarter-hour.)

Ultimate Package, only $649. Includes:

Up to 20 HTML pages
A special effect title graphic on every page. (Title text looks beveled, glowing, and/or shadowed.)
Scanning of up to 15 photos or pages of text.
Custom interactive JavaScript 'rollover' buttons for site navigation. (These are the buttons that appear to light up, glow, or change when you move the mouse over them.)
Textual links on every page as well, for efficient site navigation.
Two custom rendered 3D text graphics.
Inclusion of up to 15 'client provided' images.
A "logo-watermarked" background image. A subtle background that your logo faintly appears in. Gives an attractive, yet professional look to your page.
Free domain name and hosting set up. (Regular domain and hosting charges apply, but I set everything up for you free of charge.)
A special tracker so you can monitor exactly how many people visit your site, how they get there, what web browser they're using, and much, much more. Like a hit counter, except a million times better.
E-mail links, your address, and contact information on every page.
Submission to the 12 top search engines.
Custom "meta tag" creation. (Special codes that help your site come up in search engines.)
2 MB Hosting off my domain name. (www.impactwebdesign.com/yourcompany)
Friendly, caring, personal service.
$100 worth of free updates and revisions. (Revisions after site completion are otherwise billed at $19 per quarter-hour.)

Don't worry if you don't understand some of the terms. You don't really need to know about all this stuff if I build a site for your company, but I still like to have official "packages" to serve as guidelines for web site pricing, and to give potential clients an idea of my typical low rates.

Also, please note that I tend to be lenient towards the client, and not always follow my own rules. I might make an exception for you. These prices are slightly negotiable. Contact me if you are interested in a particular web site package, or just need a site and would like a free quote. And remember that you won't find rates like these for packages like these from any other web designer. My prices are extremely reasonable. (And these prices will probably not be this low for long, with my expanding business!)
Other Services, or Web Site "Add-Ons"
Photo scanning services: $7 per photo. Includes minor color balance and sharpness tweaking, etc.
OCR: Should you need printed text added to your web site, it's $10 a page. (This is basically like retyping each page. Conversion from printed page to digital text.) This rate applies to charts and tables (of rates, for example), as well.
JavaScript rollover buttons: $20 a pair. I say 'pair', because each button you see that changes when the mouse is moved over it is actually two separate images. This price includes both the necessary JavaScript programming and the creation of all necessary buttons, complete with text, beveled edges, changing colors, glows, etc.
A "logo-watermarked" background image: $30. (A subtle background that your logo faintly appears in.) Your choice: orderly, straight, aligned logos, or many small ones on all different angles.
3D text graphics: $10 per "piece". Text that you specify, like your company name or a page title, is specially rendered in a 3D program with your choice of color, font, etc.
Spinning 3D text: $45. Includes modeling of text, 3D animation, conversion of animation into animated GIF format, and optimization.
Beveled, glowing, or embossed buttons: $15 per "piece". For site navigation.
Digital photos: $9 per photo you receive. Includes photography and e-mailing of image to you in high quality JPEG format.
Special effect title graphics: $12 each. (Title text is beveled, glowing, and/or shadowed.)
Travel or Meeting Time: $29 per half hour, half hour minimum. If your company is located in the Chicagoland area, and you need me to take pictures, pick up new materials, etc., this is the rate. The initial meeting with the client is always free. View the Process page for more details about how the company web site construction process typically works.
Post-site-completion modifications: $19 per quarter-hour. This applies to any type of changes to the site or information on it after the initial satisfactory site is created.

Please contact me if you would like to see examples of each of these things, to aid your understanding of what I'm talking about.

If you're interested in any of these services, please call me [Walter Tersch] at 773-317-0001 for more information.